Home is where the kitchen is... it sustains the life of your homestead and is the staple for any good Prairie hostess. Tales from the cookery will share "tried and true" down-home cookin' and "hog heaven" delights, sweet as a Prairie Girl herself!
---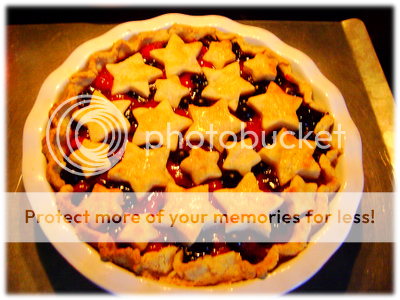 Star Spangled Cherry Blueberry Pie!
I am using the same recipe from my Memorial Day post... but adding a little star spangled twist.
---
Cinnamon Rolls
I found a fabulous recipe on AllRecipes.com by Marsha Fernandez on how to clone a Cinnabon!
---
Strawberry Salad with Candied Pecans
A great way to spice of your Summer Salads!
---
Grandma's Fruit Salad
I am sharing a recipe passed down from my Grandma's kitchen...very easy to make and delicious!
---
Pineapple Breeze Cake
Nothing brings a little sweetness to the beginning of the week quite like a good dessert. And good doesn't begin to describe the Pineapple Breeze Cake. I love to serve this cake cold...it makes such a good dessert on a hot day. Yellow cake with pineapple filling is topped with toasted coconut pecan cream cheese icing. Can you get any more goodness into one cake?? And it is a breeze to make!
---
Cherry & Blueberry Pie
Get into the patriotic spirit with Red & Blue, Cherry & Blueberry Pie...
---
Sun Tea
Sun Tea is a classic staple to summertime drinks. Easy to make and always refreshing...
---
Taco Pie
Taco Pie is a delicious spin off of Taco Salad. By using biscuits, it delivers a taco salad taste but substantially more filling.
---
Old Fashioned Lemonade
Made from fresh squeezed lemons, Old Fashioned Lemonade is an old time favorite and sure to be a summer hit.
---
Big Mama Chicken Pot Pie
Nothing fills you up (and keeps you full) like the classic pot pie. It is an American staple, sure to warm up your tummy on a chilly evening...
---
Mexican Cottage Pie
A sassy version of the infamous English Shepherd's Pie... a perfect blend of sweet and spice (Not really spicy). Sweet Cornbread replaces the traditional mashed potatoes and the meat has a "taco seasonings" flair. It almost reminds me of a chili-and-cornbread casserole with a Mexican influence.
---
Peachberry Pie
Peachberry pie is the perfect sweet and tart combination. Made from scratch with fresh peaches and blueberries, this is a pie that you will be proud to share at the church picnic.
---
Buttermilk Pecan Pie
Buttermilk Pecan Pie is a Southern favorite and is otherwise known as "a big ol' plate of sin". Yes. It is that good.
---