This week, I decided to try a softer, more "romantic" look for my tablescape. I started with this tablecloth. It is a Waverly print called "Vintage Rose" and it is one of my favorites!

I used Pink and Green dishes...



The pink plate had a vintage bird and trees print on it...
I found these at the Goodwill. :)
For the centerpiece, had cream colored roses displayed under a cloche.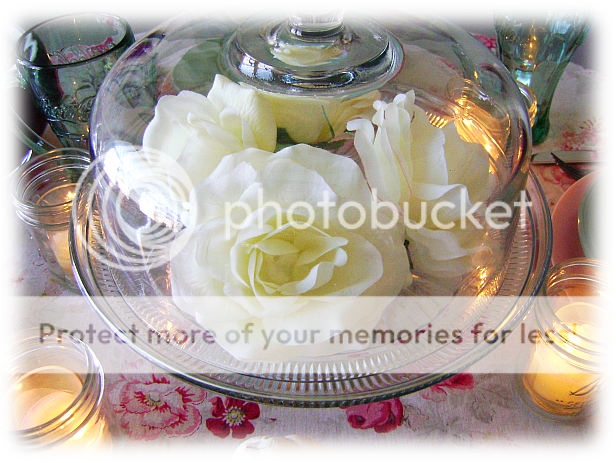 And a little birdie...
I also set little tea light candles in small mason jars around the table.
I thought the greenish tinted vintage Coke glasses were cute with this theme. There is something about vintage Coke that can be so appropriate with romantic themes.
But we will not be having Coke tonight; we will be having a nice tall glass of sweet tea.
Roses again...
Some lanterns to give a romantic glow... which I'm sure would be a little more romantic if the afternoon sun wasn't blazing through the window behind it. I'm going for affect here, work with me. ;)
...and a taper candle with dried rose petals filling the bowl.
One more look...