This week Kelly's Korner is showing off foyers and entryways...
We really don't have a very defined foyer... when you walk through the door... you pretty much see an open concept design with the dining room and living room. Take a look for yourself.
You entered through this door... (this is the inside, looks the same as the outside. ;D)

Upon entering you see this: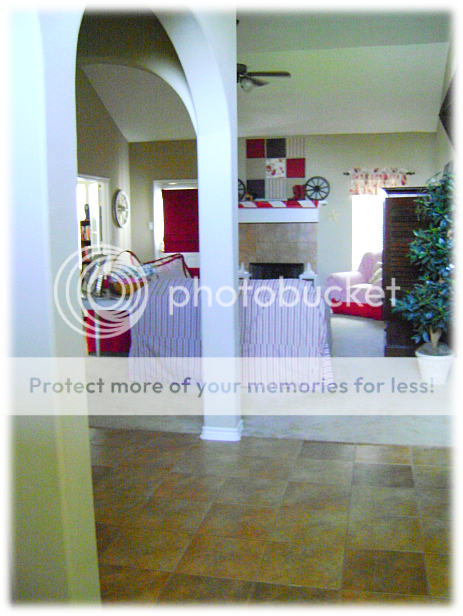 And this:

But not before you see this, directly to your right.

I have a "half table" with a yellow watering can and some flowers....and a few picture frames.

And a collection of red barn stars... some with scrolls...some without.

Looking back at the foyer from the living room:

Ok, so you saw my wonky curtain. haha Believe it or not... I made it that way on purpose.

I hated having that window open without a treatment... does anyone else get 300 solicitors per day?? And I'm not about to open the door to some strange man when I'm home alone...I've seen Forensic Files... I know the outcome can potentially be dangerous. So some privacy curtains were needed... except for this:


My dogs sit at this window and look out into the front yard all day long... especially when we leave for an errand...they watch and wait for us to return. This is our ONLY window to see out to the front of the house (besides a few bedroom windows)... and I just felt awful closing off their window. So I compromised... haha...and made the wonky curtain. It works for the few remaining months we have in this house until we move again. (Got to love military life).



We do have another friend that lives on our porch. If you look right out of the big arched window above the door...




You see this mama bird and her nest of babies. :)

Well, I wish I had more to show you... but this is our foyer...

Click on the pictures below to see other tours of my home:
The Master Bedroom:

The Master Bathroom:

The Office:

The Laundry Room:


Hope y'all enjoyed your tour! Also, if you are interested in seeing my progress on my Disneyland Half Marathon training... and inspiration board... I just wrote a new post on my other blog Melissaisms. Click on the inspiration board below to view post. :)


Happy Friday...and have a weekend full of summer fun!